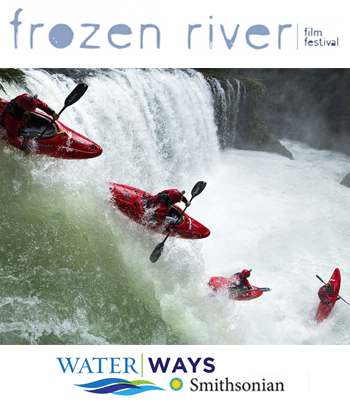 When pro kayaker Rafa Ortiz decides to follow his dream to paddle over Niagara Falls, he sets in motion an incredible series of events that eventually takes on a life of its own. To prepare for this mission, Rafa enlists the help of world-renowned paddler and filmmaker Rush Sturges and a tight team of their friends. Together they go on a remarkable three-year journey from the rainforest rivers of Mexico to the towering waterfalls of the U.S. Northwest.
"I wanted to make a film that was a big story," Sturges said. "That was my goal from the beginning, but it certainly didn't turn out like the story I set out to create, especially since I had a hero ending in mind."
The Frozen River Film Festival takes place February 15 – 19, 2017 in Winona, Minn., and offers documentary films and programming that engage, educate and activate our community to become involved in the world.
Please note:
The St. Mane Theatre box office will open for business at 6:30 p.m. on the day of the event. Remaining tickets will be sold in-person beginning at that time.
If you are unable to buy tickets online or need additional assistance, you may try calling 507-467-2446, on weekdays before 5pm, to purchase tickets over the phone.
We will have a list of the names of ticket buyers at the box office beginning at 6:30 p.m. If the ticket buyer and their guests arrive together, no receipt or proof of purchase is needed in order to be admitted to the event–we will have a list!
Alternatively, attendees can also present a printed copy of the Eventbrite ticket PDF the ticket buyer was sent or simply pull it up and present it on a smart phone.
Sponsored by: