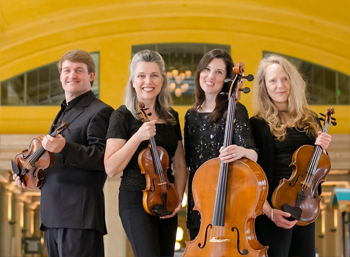 The chamber music of Joseph Haydn and L. van Beethoven will be featured in a FREE concert of Czech masterpieces at the St. Mane Theatre in Lanesboro on Tuesday, March 21, 2017 at 7:30pm.
Celebrating 30th years of performances, the Artaria String Quartet will present Haydn's groundbreaking String Quartet in Eb major Op. 20/1 and Beethoven's rhapsodic String Quartet in e minor Op.59/2. This cannot be overstated," writes music scholar Ron Drummond; "Haydn's six string quartets of Opus 20 are as important in the history of music, and had as radically a transforming effect on the very field of musical possibility itself, as Beethoven's Third Symphony would 33 years later." And renowned musicologist Sir Donald Tovey writes of the quartets, "Every page of the six quartets of op. 20 is of historic and aesthetic importance…there is perhaps no single or sextuple opus in the history of instrumental music which has achieved so much." The three "Razumovsky" quartets of Op. 59, so named after their commissioner and dedicatee, Count Andrey Razumovsky, were written between July and September of 1806 and represent Beethoven's Middle Period as well as his daring exploration into an uncharted territory of emotional expression. Despite this, or perhaps because of it, conflict was inherent in the public reception of the entire set and stretched from animosity to bewilderment. A telling moment occurred whenviolinist Felix Radicati commented to Beethoven concerning the Op. 59 quartets, "Surely you do not consider this music," and Beethoven replied, "Not for you, but for a later age." The audience is invited to stay after the one hour program to discuss the music with the musicians.
Rob Hubbard of the St. Paul Pioneer Press describes the Artaria String Quartet as an "exceptional ensemble with impressive confidence in its interpretations" and "Minnesota's foremost teaching and performing string quartet". Winners of the 2004 McKnight Fellowship for Performing Musicians, and named 2013-14 Minnesota Public Radio Artists-in-Residence, Artaria was also featured on Twin Cities Public Television as part of the "Minnesota Originals" series.
Artaria's refined and thoughtful playing has brought them to major venues throughout the United States and Europe, on national television and public radio stations, and at top summer festivals including the Banff Centre in Canada, Festival de L'Epau in France, and the Tanglewood Music Center in Lenox, MA.
Artaria has earned numerous awards from the National Endowment for the Arts, Chamber Music America, and the Minnesota State Arts Board for excellence in performance and educational outreach. Directors of the Artaria Chamber Music School, a premiere weekly string chamber music program in Saint Paul; and Stringwood Chamber Music Festival, featuring the ASQ and renowned guest artists every June in Lanesboro, MN; they are founders of the Saint Paul String Quartet Competition, which showcases the nation's top high school age string quartets each April.
Please note:
This is a free event! However, patrons are encouraged to register in advance as seating is limited.
The St. Mane Theatre box office will open for business at 6:30 p.m. on the day of the event. Remaining tickets will be distributed in-person beginning at that time.
If you are unable to register online or need additional assistance, you may try calling 507-467-2446, on weekdays before 5pm, to register over the phone.
We will have a list of the names of patrons that registered in advance at the box office beginning at 6:30 p.m. If the person who registered and their guests arrive together, no receipt or proof of purchase is needed in order to be admitted to the event–we will have a list!
Alternatively, attendees can also present a printed copy of the Eventbrite ticket PDF the person who registered was sent or simply pull it up and present it on a smart phone.