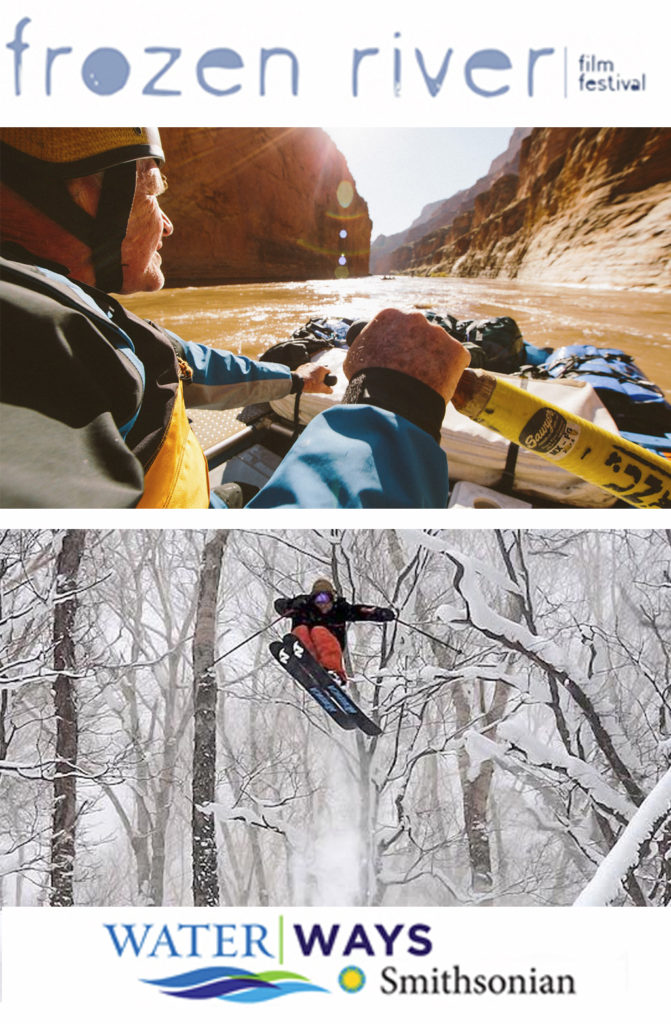 Frozen River Film Festival proudly presents The Aqua Adventure Set: a 91 minute set of seven water-related, short-length films that will grab your attention and inspire action!  Highlighting journeys and sports, as well as spiritual and cultural stories, while also demonstrating a certain level of stewardship, difficulty and/or adventure, these water themed films are sure to activate both your body and mind. This screening is taking place in conjunction with the Smithsonian Water/Ways exhibition in Lanesboro through February 19. Water/Ways viewing hours will extending into the evening on February 11. Come early and experience Water/Ways next door at Commonweal Theatre before the film screenings!
2017 Aqua Adventure Film Set Selections:
Locked In – First Descent of the Beriman Gorge (24 Minutes)
Directed by: Bryan Smith/Reel Water
Ben Stookesberry, Chris Korbulic, Benny Marr and Pedro Oliva travel to Papua New Guinea to conquer whitewater that no kayakers have navigated before: The Beriman River Gorge – one of the most significant undertakings in a kayak.
Engler (7 minutes)
Directed by: Ryan Heffernan and Grayson Schaffer
As a shy kid, Mark Engler's escape was the outdoors. Hunting and fishing every day was his dream and, over the years, he became an expert fly fisherman and guide. Although the fly-fishing master has spent almost five decades fishing the Rio Grande Valley, the splashing struggle of a sharp-toothed northern pike on Engler's line still gives him the shakes. But as Engler's young roommate and mentee Les Vance learns, Engler's outdoor lifestyle comes at a price: The fishing obsession has cost him three wives. Then again, as Vance says, turning out like the legendary Engler wouldn't be the worst thing in the world.
Edges (9 minutes)
Directed by: Katie Stjernholm, Jonathan Hiller
She survived being thrown through her windshield in a car crash at the age of 80 and then a major stroke at the age of 85. And still, at the age of 90 years young, Yvonne Dowlen continues to ice skate almost every day. Dowlen insists it's easier to skate than walk at her age. Her elegance on ice reflects the decades she spent traveling the world as a performer in the Ice Capades and sharing her love of dancing on ice as a teacher. Indeed, skating has helped her recover and rehabilitate from the most challenging times in her life. She spends every day pursuing what makes her happy — and that is the true wisdom in her story.
The Rising Gaijins (19 minutes)
Directed by: Jake Munro
3 freeskiers & 2 snowboarders from New Zealand who set aside their differences for a trip to the back-country of Japan & later become… "The Rising Gaijins' also informally known as 'The Bastards'.
The Important Places (10 minutes)
Directed by: Forest Woodward
When Forest Woodward was born, his father wrote a poem for him about the secret places of sublime beauty that he would find in life. "May you always remember the path that leads back, back to the important places," it concluded. Nearly three decades later, Forest came across the poem in a box of family books and was propelled by the words to challenge his father to recreate a 1970 trip down the Grand Canyon. Together they set off on a 28-day journey down the Colorado River, where, surrounded by towering canyon walls and powerful whitewater, Forest watches his father "not just alive, but living again."
Native Waters – Rio Grande (8 minutes)
Directed by: Amy Marquis, Dana Romanoff, Sinjin Eberle
The wild & scenic Rio Grande River is the lifeblood of New Mexico. But for Tesuque Pueblo member Louie Hena and his family, the river is more than an office, more than a provider, it is home. In celebration of the 50th Anniversary of the Wild & Scenic Rivers Act, happening in 2018, Louie urges us all to protect more wild rivers.
Milk & Honey (14 minutes)
Directed by: Justin Clifton, Chris Cresci, Sinjin Eberle, Maite Arce
Yuma, Arizona is the land of plenty for nearly all the leafy vegetables Americans enjoy in the winter months. For the people who work the fields, the Colorado River represents not only their livelihood, but a deep, spiritual connection as well. Enjoy this beautiful glimpse into the area's Latino community and their humble connection to the strained Colorado River.
Please note:
The St. Mane Theatre box office will open for business at 6:30 p.m. on the day of the event. Remaining tickets will be sold in-person beginning at that time.
If you are unable to buy tickets online or need additional assistance, you may try calling 507-467-2446, on weekdays before 5pm, to purchase tickets over the phone.
We will have a list of the names of ticket buyers at the box office beginning at 6:30 p.m. If the ticket buyer and their guests arrive together, no receipt or proof of purchase is needed in order to be admitted to the event–we will have a list!
Alternatively, attendees can also present a printed copy of the Eventbrite ticket PDF the ticket buyer was sent or simply pull it up and present it on a smart phone.
The Frozen River Film Festival is takes place February 15 – 19, 2017 in Winona, Minn., and offers documentary films and programming that engage, educate and activate our community to become involved in the world.