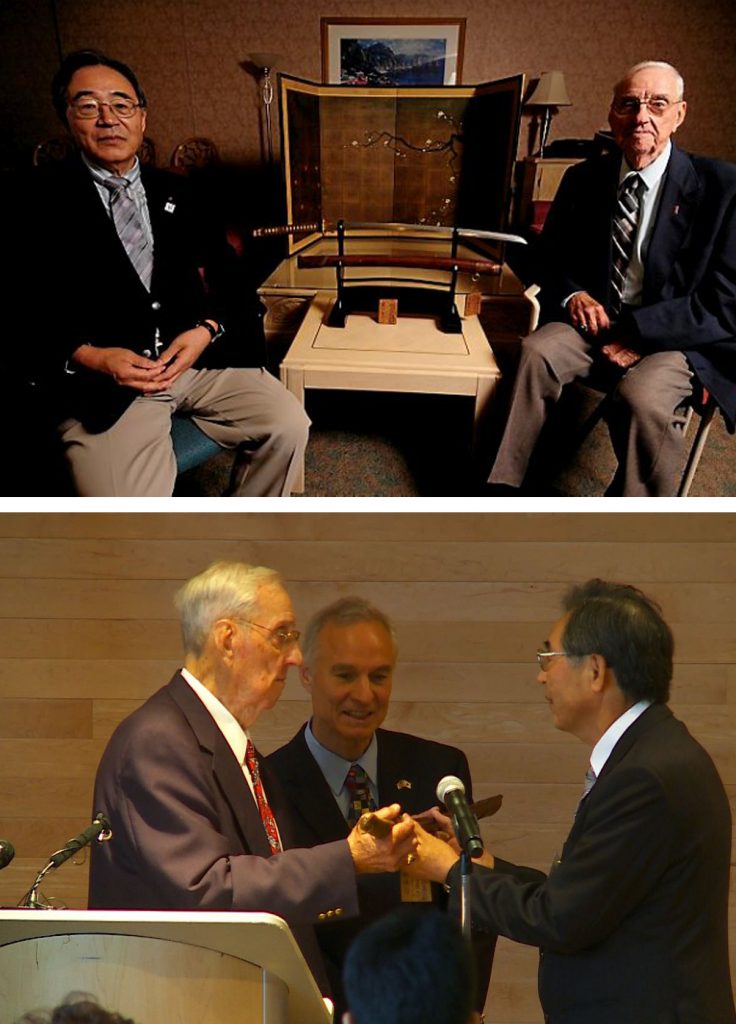 Q&A + Discussion following the presentation with Caren Stelson and members of the Amdahl family
In 2013, lifelong Lanesboro resident & WWII veteran Orval Amdahl was able to reunite a handcrafted samurai sword, taken in Nagasaki with U.S. permission as a war trophy, to the grandson of the Japanese soldier who originally owned it. Showing the sword to author Caren Stelson, who was researching firsthand information on Nagasaki after the war for her book "Sachiko," Orval told her, "I want to give this back in peace, with honor."
For 67 years, Amdahl cared for and oiled the sword tenderly, thinking of how on earth he would be able to return it to the family. Along with the sword, he kept the surrender tag. On the tag were Japanese characters that, once interpreted, was revealed to be the name and address of the man to whom it belonged. Further digging showed the man's family, the Motomuras, still lived in the exact house and place.
On Saturday, September 21, 2013, Orval Amdahl presented the samurai sword to Mr. Tadahiro Motomura of Nagasaki, the son of the original owner of the samurai sword in a ceremony in St. Paul. As the oldest living male descendant of the Motomura family, Tadahiro was slated to be the keeper of the sword. The Japanese man immediately recognized it. "He said, 'I recognize my father's handwriting.' The sword is now on the family altar in his home," Stelson said. Orval said he that handing over the sword give him a good feeling and would maybe lead to "more peace in this world instead of the mistrust and fighting all the time."
While the sword was indeed very special, it wasn't just the sword that made the story unique and attract attention on an international scale. It was the symbolism of reconciliation it had for the world — the story of peace between two nations, peoples, and former enemies. The "In Peace, With Honor" series of programs and this "Return of the Sword" event will be the first opportunity to more broadly & deeply tell that story in the Lanesboro area with a public presentation and discussion panel including members of the Amdahl family at the St. Mane Theatre on September 21, the International Day of Peace
This event is also the opening reception for 'Pictures from a Hiroshima Schoolyard' art exhibit & 'From War to Reconciliation' historical exhibit.